Best seller
Mount Resort & Hotel WordPress Download
Last updated on October 4, 2021 12:48 pm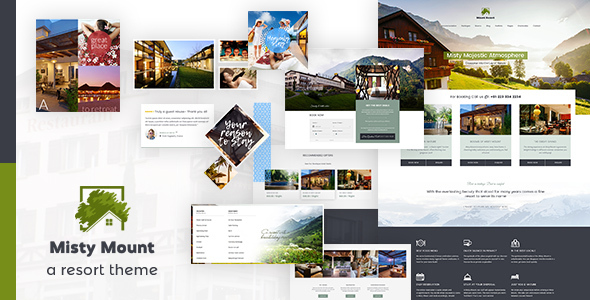 Last update was on: October 4, 2021 12:48 pm
Hotel & Resort Booking...
Hotel & Resort Booking WordPress Theme
Hotel & Resort WordPress theme for Travel and Hospitality Services, Hotel Management businesses like Resort Club and Hotel, Spa, Bed & Breakfast, Premium Service Apartment Rentals, Resort Online Listings and Skiing Resorts, Mountain Hotel, Beach Resort, Forest Resort Booking & Resort Reservation, Luxury Vacation, Holiday House, Guesthouse WordPress, Villa & Room Rental Booking and Camp Resort Websites.
Responsive WP Resort Theme for Travel Accommodation Landing Page with Online Payment, Paypal & Woocommerce Plugin Support. An eCommerce Portal to Showcase Hotel Information Like Events, leisure Spa Events, Restaurant & Hotel Offers with ease using Visual Composer Website Builder Templates & Short codes.

Resort, Hotel Booking WordPress Theme
Misty Mount offers you ease of use in customizing your site using the drag and drop features so that anyone could easily configure your website's pages and layouts like a professional. Now creating beautiful and meaningful websites with a wonderful UI/UX experience is a piece of cake with Misty Mount.
How?
Because, we have incorporated exciting Plugins like eForm which is a Premium WordPress Form Builder Plugin, Kirki-a frontend customizer tool kit that makes it easier for everyone to create beautiful and meaningful websites and Rooms Plugin which is an amazing tool to showcase your rooms in any manner you deem fit for your customers.
Using Misty Mount, create any kind of resort website like a professional. Misty Mount comes Builtin with 3 new Plugins. Let us take a moment to check what is the advantage as a result of integrating these Plugins to your website.
EForm:
We are delighted to integrate eForm worth $38 in Misty Mount resorts theme. eForm is a WordPress form builder using which you can create different kinds of forms for surveys, quizzes, data collection, payment-cost estimation and different types of user feedbacks. It is an amazing tool to run your site successfully as every single interaction with your customers, visitors and others could be captured for data analysis. Intuitive forms such as website surveys, resumes and quizzes could be designed in a simple interface. Therefore, running your site as an admin is going to be an enjoyable job!
KIRKI:
Kirki is the ultimate toolkit for theme developers using the WordPress Customizer. Misty Mount lets you take advantage of its advanced features and flexibility. Simply by abstracting the code, it is easy for everyone to design beautiful and meaningful UI.
ROOMS ADDON:
Customizable to the core, Misty Mount offers the Room Plugin as Builtin. You can create any number of customizable rooms and add its features effortlessly. The number of people per room, the area in sq feet, AC facilities and other features like TV, mini bar etc could be displayed as a feature list adjacent to the images of the room depicting various views. The booking features is enabled so that the visitor makes a decision to opt to stay in your resort.
THE COST CALCULATOR:
There is an additional feature of the cost calculator that will take in the inputs from the customer in terms of no of days of stay, no of people in the group, the type of food preferred and so on. Once the inputs are received, the form gives out the total cost of the stay and food opted for. Very neat and functional.
THE BOOKING FORM:
Additionally, Misty Mount theme also provides a quick form for making reservations from a particular date to a desired no of nights of expected stay. We know there are different requirements and you can choose any one of the ways of booking a room or reserving for several days.
FULLY RESPONSIVE:
Whether it is mobile phones, tablets or desktop PCs, Misty Mount will load quick giving you an edge in terms of speed and ease of loading. Every element is responsive in Misty Mount theme, so that your site will load in any device really quick.
BLOGS:
Misty Mount offers 5 types of blog layouts namely Blog – Date And Author Left, Blog – Date Left Blog – Medium, Blog- Medium Highlight, and Blog – Skin Highlight. The variety in display gives you the opportunity to display your services and images in a gorgeous way to engage your visitors and customers like.
PORTFOLIOS:
In Misty Mount theme, there are 9 types of portfolios available for you to choose from. For example there are Art Portfolio, Classic Portfolio, Girly Portfolio, Icons Only Portfolio, Minimal Icons Portfolio, Modern Title Portfolio, Presentation Portfolio, Icons Overlay Portfolio and the Title Overlay. Each of these options offer enormous opportunities to display your content to be engrossing.
SHORTCODES GALORE:
Misty Mount offers a plethora of shortcodes to configure your modules like tabs, accordions, buttons and tooltips. The shortcodes offered in Misty Mount is mind boggling. Well, almost every conceivable need has been analyzed and these shortcodes have been included. All the requirements of your site for Blockquotes, Buttons & Lists, Carousel, Columns, Contact Info, Content Shortcodes, Custom Posts, Fancy Boxes, Icon Boxes, Image With Caption, Miscellaneous, Number Counter, Pricing Table, Progress Bar, Tabs & Toggles, Team, Testimonials, Carousel Testimonials, Timeline and Typography.
PLUGINS:
The following Plugins namely Contact Form 7, Visual Composer, Slider Revolution, Kirki Toolkit, Instagram feed, Room Addon and eForm are enabled in Misty Mount.
VISUAL COMPOSER:
The Visual Composer makes designing of a site into a simple drag and drop affair that everyone would simply love to get their hands on. Using the WYSIWYG-what you see is what you get-interface, it is a piece of cake to design your website like a professional!
PAGEBUILDER:
The drag and drop page builder makes everyone a designer without the coding knowhow! The power of visual composer is integrated in Misty Mount Theme. Create pages quickly with few clicks in few minutes with the help of Visual Composer and custom Misty Mount shortcodes.
CONTACT FORM 7 :
Using contact form 7 design as many forms with unlimited number of input row fields in your form. You can design you own forms and limit spam and increase conversion.
MAILCHIMP:
Using the Mailchimp Plugin configure your newsletter subscription to build your email list of customers. In combination with the forms plugin, design as many forms for different needs like survey, questionnaires and hosts of other forms. Just by adding the API key in backend, your MailChimp integration would be completed.
INSTAGRAM SUPPORT:
In Misty Mount, Instagram is integrated so that you can display your favorite pictures from Instagram stream so that you are socially connected to everyone!
TYPOGRAPHY:
With more than 600+ Google webfonts and the FontAwesome icons, you can set any color or size in your site and design your pages at will. Legendary Support: Using the extensive documentation, knowledge base and video tutorials you can get any clarification you may require about Misty Mount theme, 24/7.
Mount Resort & Hotel WordPress Download