Best seller
Jannal – Windows Curtains & Doors Service WordPress Theme Download
Last updated on October 21, 2021 10:16 pm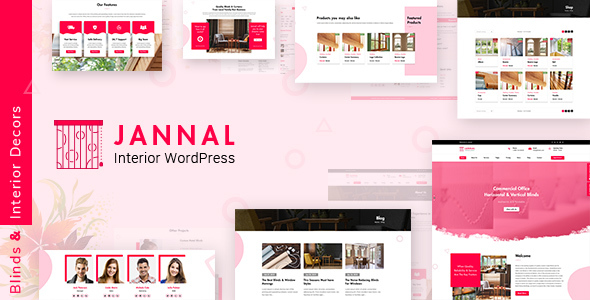 Last update was on: October 21, 2021 10:16 pm
Curtains, Blinds &...
Curtains, Blinds & Interior Design, Interior Decor WordPress Theme
Jannal is an awesome interior Decoration and Interior Design WordPress theme. Suits best for Buildings and House interior design retail and services like Interior & Exterior Design, Kitchen, Living room, Bedroom, Residential, Office and Commercial Designs.
This theme features the best designed Portfolio Layout, Product details, Gallery Layouts, and Blog layouts, and the most powerful Woocommerce integrated shop to sell furniture, lights, contemporary furniture, window blinds, interior blinds, exterior blinds.
Create interior decoration websites, creative interior, interior designing, interior designer website, interior furniture, home decoration, furniture WordPress, interior, modern interior design 


All the elements are can be customized easily without recreating it. In Jannal you can customize this theme to any business.
Jannal is provided with 10 unique pages
01_Home
02_About
03_Team
04_Service
05_Service Details
06_Faq
07_Price
08_History
09_Shop
10_Contact
You can add your own images as clipping areas on those shapes. Most of the images are from Shutter Stock
Jannal – Windows Curtains & Doors Service WordPress Theme Download